Ann Barron discusses her book 'No Ordinary Life. Memoirs of an Extraordinary Man' and her self-publishing journey.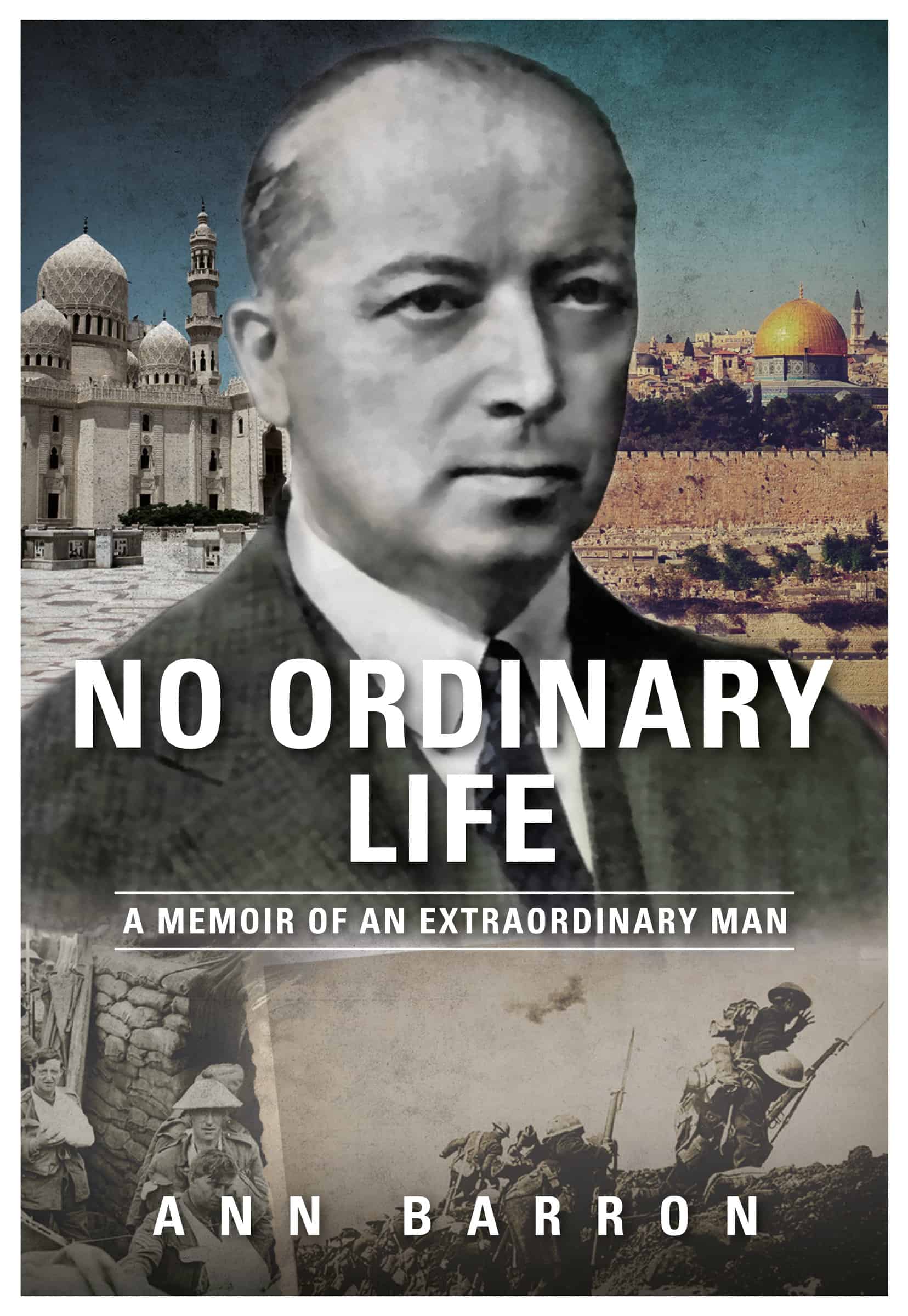 It was over seven years ago that I decided to write a biography of my Grandfather, John Bernard Barron.
The History of the Book
I had known him since my Mother & I landed in Alexandria, Egypt, just after the end of World War Two, when I was four years old. From that time on Grandfather was a much-loved figure and a major influencing factor in my life.
He had left me a rich archive of letters, maps, newspaper articles and other memorabilia that he had saved from his life, lived through two world wars: as a teacher in Palestine before the 1st World War and military and civilian service in Palestine during the British Mandate. During these years he earned the Military Cross and Bar in 1917 and the OBE in 1920.
Later he moved to Egypt where his life in business and the civil service throughout the years between two world wars and through service to the Royal Navy during World War Two, earned him The Order of The Nile in 1937, while later, the offer of the CBE in 1945 was refused.
When he retired back to England in the early 1950's he was headhunted by the Archbishop of Canterbury for work with The Church's Council for Foreign Relations as an expert in Middle-Eastern church affairs.
Putting the Book Together
It took a long time for me to work through all the papers he left. I read and researched as widely as I could in-between a busy life. I visited the Mercian Museum in Worcester to research his life in the Worcestershire Regiment, and St Antony's College, Oxford, to delve into some of my family archives held there for the Blyth side of my family.
I visited Israel and Palestine twice, worshipping in St George's Cathedral church, Jerusalem, which building had been initiated by my Great-grandfather, Bishop Blyth.
My husband and I also visited Ypres to learn more about that part of World War One which was the Western Front where Grandfather fought for nearly two years.
Self-Publishing The Book
In 2020, after numerous edits the book was accepted by Silver Crow, the book brand of Frome Writers Collective, of which I am a member. After quite a few consultations with those in the publishing business and several local, published authors I approached The Self -Publishing Partnership in Bath. I have found the self-publishing journey with SPP surprisingly free of hassle and I am very pleased indeed with the book cover and internal layout of the book.
The book has been very well received and is now in its second print run, so it has enjoyed some limited success, and I feel is a fitting memorial to my wonderful Grandfather.
     Ann Jean Blyth Phillips [Barron]
'No Ordinary Life' can be purchased here.
Read our other author's blogs here.